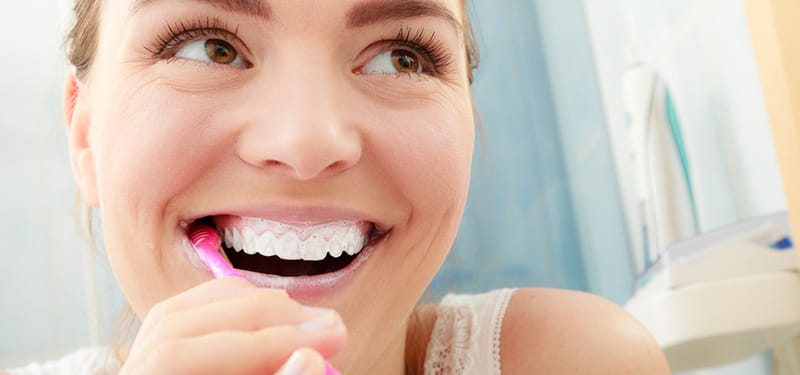 February is National Childrens Dental Health Month and we want to celebrate the benefits of building healthy habits when kiddos are small that will last a lifetime. That's why the American Dental Association chose to focus on this particular topic … to bring together thousands of dedicated dental professionals, healthcare providers, and educators to promote the benefits of good oral health to children, their caregivers, teachers and many others. What's interesting is that so many of the oral hygiene tips we give to adults should also be followed by children.
Your teeth are truly an amazing part of your body, and as beautiful as those pearly whites of yours can be, they are extremely important as well. Being responsible for breaking down food for consumption, obviously your teeth play a vital role in daily life. However, with such an important purpose, the hazards your teeth face on a regular basis are countless.
Indeed, your teeth are very tough, the constant wear and tear they endure is bound to take its toll. Additionally, if your teeth are improperly cared for or neglected, this could spell disaster for your teeth in a variety of different ways!
First, let's review the importance of oral hygiene.
Daily Oral Hygiene
It's important for our littles to see us leading the way and setting an example. They pick up on our good habits AND our bad habits, that's why oral hygiene is so important.
It can be way too easy to get into the habit of poor oral hygiene and you could be setting yourself up for unavoidable dental health issues.
Sadly, this has been the case for many people, as progressive diseases such as tooth decay and gum disease typically manifest slowly over several years, and rarely display any obvious symptoms until their latter stages.
Unfortunately, if these conditions have progressed to an advanced stage, the damage at that point may be irreversible.
Poor Oral Hygiene: The Consequences
Tooth Decay
Tooth decay is a condition in which harmful acidic particles build up in a person's mouth over a prolonged period, slowly eroding the tooth's protective outer layer and rendering it vulnerable. Unprotected, bacteria descend upon the tooth causing it to rapidly decay. Once a tooth has fallen into a state of decay, you are likely to experience increased tooth sensitivity, as well as the appearance of cavities and eventual breakage.
Related Article: Tooth Decay: A Sticky, Sweet Dilemma
Tooth Decay: Signs & Symptoms
While not all of the symptoms listed here are definitive signs of tooth decay, if you are experiencing any of these symptoms, we recommend you contact your dental practitioner to receive a formal checkup. 
Unexplained toothaches or spontaneous tooth sensitivity
Moderate to severe pain while consuming hot/cold foods or drinks
Visible holes, stains, or crevices on a tooth's surface
Chronic foul breath (Read more here about how to stop bad breath)
Alterations in bite or difficulty while chewing
Discoloration of tooth and surrounding gum line
Gum Disease
Although gum disease is a relatively familiar term to many people, the condition is often misunderstood and simply written off as little more than a minor nuisance. However, the truth is that gum disease is an infection of the gum tissue caused by excess plaque/bacteria build up around the teeth and gumline. When the gum tissue has become infected, inflammation of tissue surrounding the teeth will occur. Your gums may bleed while eating or brushing, this is often a tell-tale sign of gingivitis, or an early stage of gum disease.
Once gingivitis has been detected, we highly recommend that you visit your dentist (if you haven't already) and begin taking a proactive role in treating the condition before it can spread any further. If the infection is allowed to progress further, it will continue to spread throughout the mouth, eventually affecting the teeth and jawbone. This is what's known as periodontitis or periodontal disease, which is a later stage of gum disease, and unquestionably when the disease is at its worst.
Periodontal disease causes irreversible damage to the mouth and may destroy the entire jaw if severe enough. Perhaps most troubling of all is periodontal disease's tendency to spread to other regions of the body or interact with other preexisting conditions, which could pose serious problems not only to your dental health, but your overall health!
Related Article: Dental Health Awareness: Gum Disease and Heart Disease
Complications from Poor Oral Hygiene
While tooth decay and gum disease may not sound all that scary at first, the complications of either condition can truly be a nightmare! As alluded to earlier, if the bacteria produced by either condition enters the bloodstream it may likely travel to other areas of the body, spreading and worsening the infection.
If the infectious bacteria reach the heart, it will inflame the heart's vessels, resulting in the formation of numerous blood clots. These blood clots will slowly begin to cut off the flow of blood, thereby choking the heart and forcing it to pump faster while producing less and less efficiently.
As a result of this, individuals suffering from severe tooth decay or periodontal disease, (or both) have a three times higher likelihood of suffering a heart attack, stroke, or other cardiovascular-based complications. Additionally, tooth decay and more particularly gum disease, can also lead to the worsening of other chronic illnesses such as diabetes, or various types of cancer, which is likely to have serious if not fatal results.
Common Dental Problems
Although some of the most common dental problems are not exactly terms that are unfamiliar, the resulting ramifications of such dental health issues can have devastating effects on not just your oral health, but your general health as well.
Of course, we've already discussed the dangers of tooth decay and gum disease, listed below are some of the most common dental problems and health issues affecting patients today.
Foul Breath:
The condition known as halitosis or bad breath can certainly be the cause of social anxiety or embarrassment, however if this remains a persistent problem, there is likely an additional oral issue to blame. Chronic foul breath can be indicative of numerous issues such as cavities, dry mouth, gum disease, buildup on tongue, or even oral cancer.  Read more about how to stop bad breath.
Toothaches:
Like foul breath, toothaches or tooth sensitivity can be a tell-tale sign that there may be additional dental health problems that perhaps have not been addressed. Tooth sensitivity may indicate undetected damage (such as cracks, chips or abscesses) or even the early symptoms of tooth decay. Regardless, if chronic toothaches are ignored, they are only likely to worsen over time.
Oral Cancer:
Oral cancer is an extremely aggressive type of cancer that is responsible for approximately 9,750 annual deaths in the U.S. alone, and remains a major health issue nationwide. While treatable in its early stages, if allowed to spread, oral cancer may not be able to be stopped, thereby having potentially fatal consequences. Read more about oral cancer screenings and how they can save your life, here.
You may not know that these common dental problems can lead to additional health problems. Read more about additional consequences of poor oral health here.
Risk Factors
These dental health issues obviously pose some serious problems – not only for adults, but for children as well – however, by recognizing the various triggers or risk factors of some of these common dental problems, you may allow yourself to take the necessary precautionary measures to prevent such issues before they occur.
Improper Oral Hygiene: While this may seem like a given, unfortunately it can be very easy to fall into poor oral hygiene habits, and while this may not seem like a big deal, obviously it dose put you at a higher risk of developing tooth decay, gum disease and other related complications.
Dietary Habits: It's certainly okay to enjoy the occasional treat, however if sugary drinks and snacks are a part of your daily diet, then you might consider cutting back on the sweets. Excess sugar can cause a number of alarming dental health concerns and oral problems are certainly no exception. If reeling in your sweet tooth is an issue, then it is essential that you practice proper oral hygiene.
Smoking/Tobacco Use: As you probably realize, excess tobacco use can be catastrophic on one's oral health, and cigarette smoke is often the culprit of this. Tooth decay, gum disease, and of course oral cancer can all be caused by smoking, and the likelihood of tobacco users developing any of these issues is exponentially higher than that of nonusers. If you are a regular tobacco user, we strongly encourage you to seek professional counseling and to consider quitting. There's also a new trend on the rise, vaping. Read more about the dangers of vaping.
Infrequent Checkups: As a rule of thumb, most dentists agree that a dental appointment every six months is the best course of action, effectively resulting in two appointments per year. It's important to remember that your dentist is trained to not only take care of your teeth, but also to recognize the signs of any additional health issues (both oral and otherwise). By not giving your dentist the time to give you a proper examination, you are preventing your dentist from detecting any health problems and allowing dental health issues to progress and worsen. 
Prevention
When it comes to issues such as tooth decay and gum disease, prevention is always the best route, therefore Dr. Kimes and his staff at Overland Park Dentistry are more than happy to provide you with the best guidance and treatment to address all your oral hygienic concerns or needs.
However, despite the various quality services that are available, it's important to remember that the determining factor between good oral health and poor oral health always comes back basic oral hygiene. By taking the time to make sure you are correctly brushing, flossing, and caring for your teeth daily you are taking a crucial step in preventing dental health issues before they occur.
Remember consistency is key! By taking a few extra minutes each day to ensure you're practicing proper oral hygiene and incorporating this into your daily routine until it becomes a habit, in sense you are acting as your own daily dentist! However, while daily hygienic consistency is in your hands, you should still make a point to schedule a routine dental checkup twice a year to make sure that your hygiene efforts are paying off and your teeth are strong and healthy.
Related Article: Schedule Your Summer Dental Appointment
Remember, although taking a few minutes each day to correctly care for your teeth may just seem like a little thing, sometimes the little things can make a very big difference!
Local dentist, Dr. Charles R. Kimes, DDS, and his team at Overland Park Dentistry look forward to having the opportunity to care for you and your family with preventative, restorative or cosmetic dentistry. To schedule your dental appointment with your Overland Park Dentist, contact us at our south Overland Park office at (913) 647-8700 or our north Overland Park office at (913) 341-2380.