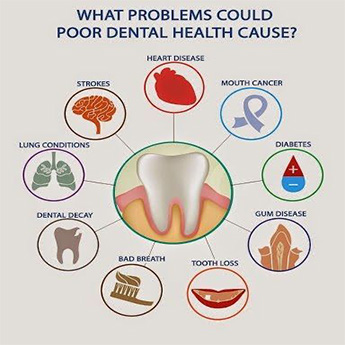 Although dentistry has always been part of the health community, for many years oral health was looked as a lesser health concern and was not held in high esteem among those in the heath industry as compared to other professions. Alas, in recent years this has been proven to be incorrect, as oral health has revealed itself not only be a much more significant issue than originally suspected, but also to be the root cause of numerous additional health complications. While the resulting ailments may vary in severity, some have potential to be quite serious or even fatal, if left untreated.
Poor Oral Health and General Health
Make no mistake, oral hygiene is extremely important, and while you might be able to get away with a couple slip-ups here and there; unfortunately, it's a slippery slope to poor oral health. As it can be extremely easy to get into the habit of providing your teeth with inadequate care, thus setting yourself up for inevitable health issues.
For many in people in the past this has sadly been the case, as progressive diseases, such as tooth decay and gum disease, typically manifest slowly over an extended period, and rarely display any obvious symptoms until they reach their advanced stages. If these illnesses have progressed to a later stage, the damage at that point may be irreversible and could in fact, trigger a litany of additional health problems as well! Whether it be gum disease, tooth decay, or other health complications, the consequences of inadequate oral hygiene and poor oral health are never pretty!
Health Complications
At first glance, the two major consequences of improper oral hygiene (Tooth Decay and Gum Disease) may strictly seem like oral health issues. However, in reality these issues go much deeper than that as their affects not only wreak havoc on your oral health but cause an excess amount of oral bacteria to build up as well.
If the bacteria produced by either condition can enter the bloodstream, it may likely travel to other areas of the body, thereby spreading and worsening the infection. If the infectious bacteria reach the heart of its host, it will inflame the heart's vessels, resulting in the formation of numerous blood clots. These blood clots will slowly begin to cut off the flow of blood, ultimately strangling the heart and forcing it to pump faster while producing less.
Learn more about Dental Health Awareness and how Gum Disease and Heart Disease are linked here.
As a result of this, individuals suffering from severe tooth decay or periodontal disease, (or both) have a three times higher likelihood of suffering a heart attack, stroke, or other cardiovascular-based complications. Additionally, tooth decay and more particularly gum disease, can also lead to the worsening of other chronic illnesses such as diabetes, or various types of cancer, which is likely to have serious if not fatal results.
Learn more about the link between Diabetes and Oral Health and its link to gum disease here.
Prevention: The Six-Month Rule
It's often said that "The best defense is a good offense" and when it comes to maintaining your health (both oral and overall) such an approach is perhaps the smartest route. If you have read any of our previous blog entries, you may be familiar with what we at Overland Park Dentistry refer to as "The Six-Month Rule", and while this term is not yet widely known among the general populace, learning and adhering to the six-month rule is perhaps one of the best ways in protecting both your oral and overall health.
As its name implies, the six-month rule is the recommended amount of time between scheduled dental checkups, resulting two routine dental checkups annually. By taking the time to receive two checkups per year you are much more likely to correct poor oral health habits and prevent potential issues before they are allowed to become a threat to your well-being.
Learn why you should schedule your summer dental appointment here.
So, ask yourself:

"When was my last dental appointment? "
And…

"Just how often do I take the time to make sure I am properly brushing and caring for my teeth?"
If you found yourself unable to honestly answer either of these two questions, we strongly encourage you to come see us at Overland Park Dentistry so that we may help keep both you and your teeth healthy!
Local dentist, Dr. Charles R. Kimes, DDS, and his expert team at Overland Park Dentistry look forward to having the opportunity to care for you and your family with any preventative, restorative or cosmetic needs you or your family may have. To schedule your dental appointment with your Overland Park Dentist, contact us at our south Overland Park office at (913) 647-8700 or our north Overland Park office at (913) 341-2380.