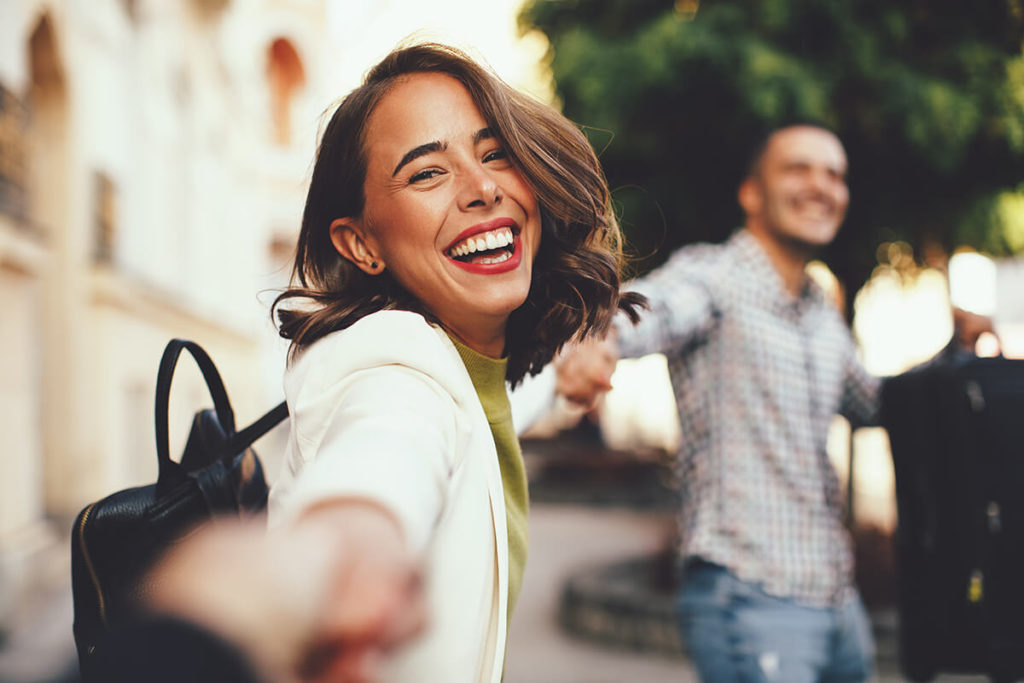 Goodbye 2020 … HELLO 2021!!
2020 Is finally over and it's the dawn of a new day, and while 2020 wasn't the year many of us hoped it would be, with 2021 comes the promise and encouragement of a fresh, new start! How do cosmetic dental options fit into New Year Resolutions? Let's dive in…
For many of us, a fresh start can mean a multitude of things; maybe 2021 will be the year you receive that big job opportunity that you've worked so hard for, or maybe 2021 will be the year that you finally realize your fitness goals and attain that toned physique that you've been dreaming of.
Indeed, having a set list of new year's resolutions is a fantastic way to start off a new year. However, in this article, we would like to discuss an equally as important, but very personal goal that you might want to consider accomplishing this year as well.
Don't Hide Your Smile
While it might not come as a big surprise to hear that there are many people unhappy with their smile, what you may not know is that one third of Americans today, report being dissatisfied or even self-conscious about their teeth! Regardless, whether it's the color, shape, or alignment of your teeth; if your smile is not up to par, it can certainly be a major source of embarrassment or anxiety.
If you or anyone you know of struggles with such a dilemma, then perhaps 2021 is the year to change that. In this article we will discuss the numerous cosmetic dental options and procedures that we offer at Overland Park Dentistry, and how these procedures can help you enjoy 2021 with a smile!
Cosmetic Dentistry Options: The Six to Fix!
Although "cosmetic dentistry" is sometimes written off as strictly appearance-based dentistry, in fact it is something of an umbrella term. Cosmetic Dentistry encompasses multiple procedures, which are performed for a wide variety of different purposes. These purposes, (while cosmetic in nature) can improve one's oral heath, and overall quality of life, not to mention boost self-confidence.
In the section below, we list six different cosmetic dental options, and how they can help enhance and improve your smile.
1. Professional Teeth Whitening
As you may have read in our previous blogs, professional teeth whitening is a relatively simple procedure that is performed to diminish any staining or discoloration that your teeth may have. As we age, our teeth sustain a certain amount of wear tear over the years which will give them a worn-down, dull appearance.  However, by having your teeth professionally whitened, you can reverse this process and restore your smile to its youthful glory!
Related Article: Brighten Your Smile with Professional Teeth Whitening
2. Invisalign Invisible Braces
As one of the premier services provided by Overland Park Dentistry, Invisalign is an innovative new technology that has changed many of the tried-and-true methods in both dentistry and orthodontics.  Invisalign are transparent custom fitted aligners that are designed to straighten and ultimately realign your teeth. The purpose of the Invisalign device is not only to improve the aesthetic appearance of your teeth, but also to correct any jaw alignment issues or irregularities, such as underbite, overbite, crossbite, and more.
Related Article: Invisible Braces: Invisalign vs. Smile Direct Club
3. Porcelain Veneers
Despite a seemingly simplistic appearance, dental veneers are designed for the complex task of not only creating a seemingly pristine smile, but to simultaneously shield your teeth from hazardous outside elements as well. Appearing as a clear, soft, porcelain covering, veneers can be fitted on your upper and lower teeth, thereby creating a sort of protective skin that surrounds the outer layer of your teeth.
Related Article: Don't Hide Your Smile: Smile BIG with Porcelain Veneers
4. Dental Implants
While not a treatment that is typically associated with cosmetic dentistry, it's obvious that implants can provide significant cosmetic improvement to your smile if you are missing a tooth. Typically made from titanium, dental implants are screw-like devices which are attached to the crown via a connector and can be designed to support single or multiple crowns, ultimately resulting in a sturdy replacement that looks and functions like natural teeth.
Related Article: Tooth Replacement with Dental Implants
5. Dental Crowns
Dental crowns (or fillings) are not necessarily applied for strictly cosmetic purposes; however, you cannot deny the cosmetic benefits that a dental crown can provide. As you probably know, a crown is a composite cap that is fitted over a damaged or decayed tooth after it has been treated and sealed; this completes treatment of a large cavity, root canal or dental implant. Designed to resemble the tooth's previous appearance, a crown is created to restore the tooth cosmetically, and protect it from incurring any future damage.
Related Article: Reasons You May Need a Dental Crown
6. Dental Bonding
Dental bonding is an easy and relatively inexpensive procedure in which a composite resin is applied to a damaged or decayed tooth, ultimately to repair and restore the tooth to its former self. While bonding is generally used to repair chips and cracks in teeth, it can also be done to fill in troublesome gaps, close spaces between teeth, and reshape teeth.
Related Article: Teeth Bonding: What You Need to Know!
A New Year, A New You!
With an entire new year in front of us, 2021 has the potential to be whatever you want it to be! So, if you find yourself feeling self-conscious about your smile, why not make this the year for a change?
Please contact our offices at Overland Park Dentistry, so we can help keep you smiling all year long!
Local dentist, Dr. Charles R. Kimes, DDS, and his team at Overland Park Dentistry look forward to having the opportunity to care for you and your family with preventative, restorative or cosmetic dentistry. To schedule your dental appointment with your Overland Park Dentist, contact us at our south Overland Park office at (913) 647-8700 or our north Overland Park office at (913) 341-2380.