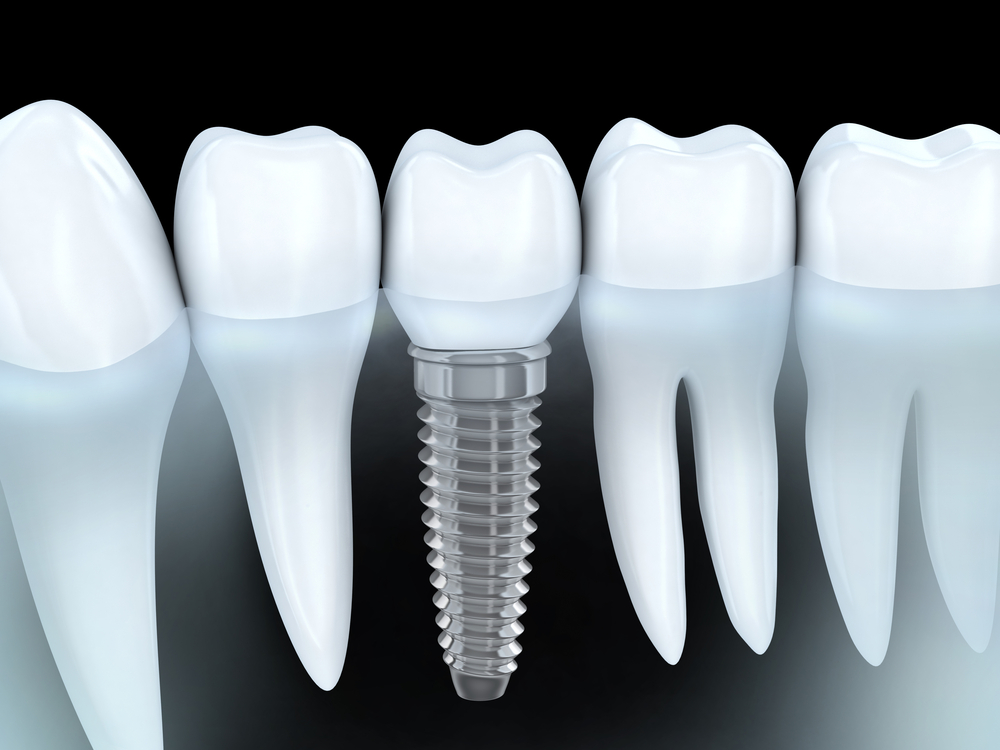 Teeth are Indispensable
Obviously, your teeth are one of the most vital aspects of everyday life, whether it's munching on your favorite snack or grinning ear to ear for a photo op, if you have one or several missing teeth, such a simple task becomes THAT much harder.
Fortunately, within the ever-expanding realm of dental technology, there are a variety of different ways to replace teeth that have been lost or significantly damaged. Many dentists will agree that tooth replacement with Dental implants are unquestionably the most effective method to replace a tooth, and if you meet the candidacy requirements, dental implants are generally your most viable option.
Dental Implants: The Best Option
The modern dental implant has become something of a fan favorite among the dental community for its ability to provide a cosmetically pleasing and durable solution for those in need of a permanent replacement. Hiding under your gumline, are what is known as your teeth's roots. The roots keep your tooth anchored within its socket, while simultaneously connecting it to the nerves and blood vessels within the jaw, therefore essentially serving as your tooth's life source. If a tooth is significantly (or entirely) destroyed however, then it is necessary to not only replace the tooth itself, but also its means of keeping itself in place. To achieve this, an implant platform is to be inserted within the jawbone, in order to create a base for the artificial tooth (or crown) to be held in place. Once in place, the platform and crown are connected via a small screw which can be designed to support one or several crowns, ultimately resulting in a sturdy replacement that looks and functions like natural teeth.
What Are the Candidacy Requirements?
As mentioned earlier, to receive a dental implant you do need to meet the candidacy requirements. While implants are typically the best solution for the majority of patients, it's important realize that implants might not always be the right solution depending on a patient's medical history. In the section below are several issues that could POSSIBLY disqualify a patient from receiving a tooth replacement with dental implants.
Periodontitis: Also known as gum disease, periodontitis is an infection within the gumline which causes the gum tissue, teeth, and (in severe cases) jawbone to slowly deteriorate. Any patients suffering from periodontitis much have the condition treated prior to receiving implant surgery.
Diabetes: While diabetes doesn't automatically disqualify a patient from receiving a dental implant, the patient must have the condition under control, and are required to consult with a primary care physician before receiving the treatment.
Smoking: Although smoking is personal choice, it's important to realize that smoking does exponentially increase the risk of implant failure. Therefore, any patients receiving dental implants are strongly encouraged to quit.
Youth/Pregnancy: Younger patients whose jaws might still be growing should wait until their jaw has fully developed before seeking implants. Likewise, women who are pregnant are also required to wait until after childbirth to receive treatment.
Osteopenia: Patients with osteopenia suffer from low bone density and are generally not encouraged to receive dental implants. However, it should be mentioned that implants are sometimes possible in this scenario by way of bone grafting.
Poor Overall Health: Although relatively minor, its important to understand that the dental implant process is a form of surgery and therefore a patent must be healthy enough to undergo the procedure. Therefore, if a patient has any additional underlying health issues or concerns that they are aware of, a proper assessment of such issues should be taken before any treatment can proceed.
Going Above and Beyond
While not all dental providers offer tooth replacements with dental implants, at Overland Park Dentistry we believe in going above and beyond for our patients. Therefore, as part of our restorative-based treatments, we have dental implants available to those in need of tooth replacements and are certainly willing to help you! If you are in need of a tooth replacement or would like to find out if you're a candidate for dental implants please feel free to contact our offices and remember to always keep smiling! 
Local dentist, Dr. Charles R. Kimes, DDS, and his team at Overland Park Dentistry look forward to having the opportunity to care for you and your family with preventative, restorative or cosmetic dentistry. To schedule your dental appointment with your Overland Park Dentist, contact us at our south Overland Park office at (913) 647-8700 or our north Overland Park office at (913) 341-2380.