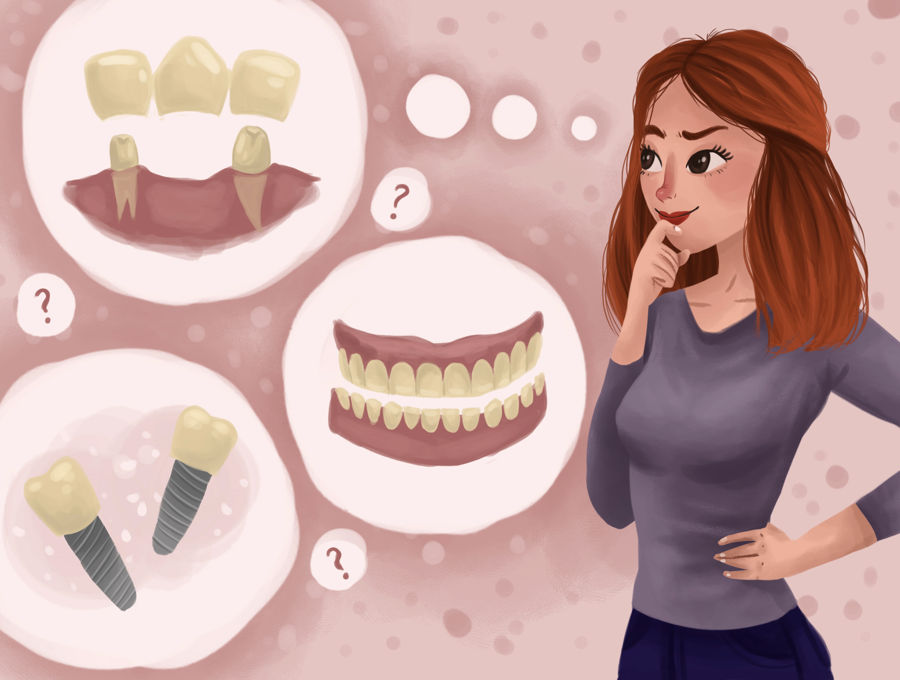 As you probably realize, your teeth play a vital role in your daily life both in a practical and aesthetic sense. While a person's natural teeth are certainly strong and durable, in time teeth will age and may slowly begin to deteriorate if they're not cared for properly. 
While this may seem far-fetched, falling into poor dental hygiene habits can be very easy to do and a very difficult habit to break; unfortunately, when this happens, it's a slippery slope from there. Although the prospect of losing one tooth might not seem like that big of a deal remember, if one tooth is lost then others are likely to follow, as well as a barrage of additional oral health problems, such as Periodontal disease. Read why oral hygiene is such a big deal HERE.
Don't forget that your lack of oral hygiene can also lead to other disease in your body. Check out one of our previous blogs about The Consequences of Poor Oral Health.
Therefore, if you have one missing tooth or several, we strongly recommend that you seek treatment and consider tooth replacement options before things get any worse!
Three Options for Tooth Replacement to Consider
There are three primary options for replacing missing or damaged teeth. While each option can certainly provide a great solution in the correct circumstances, your dentist will certainly have the expertise to determine which of these options is best for you. Keep in mind, while all three of these options are considered separate procedures, it is not uncommon for two or more these procedures to be utilized and combined, depending on a patient's specific needs.
Options for Tooth Replacement: Full Denture
It's certainly no secret that dentures are stereo typically associated with the elderly, but are one of the first options for tooth replacement that come to mind. While the word "denture" doesn't necessarily elicit the most positive reaction, trust us when we say that dentures are not exactly what they are perceived to be.  Unlike the cumbersome, ill-fitting dentures of yesteryear, the modern full or complete denture is generally comprised of acrylic material and is customized to be fitted firmly and seamlessly to your upper and or lower jaws. As one could expect, the full denture is designed for individuals who have lost the majority of their natural teeth, thereby requiring extensive replacements.
Options for Tooth Replacement: Removable Partial Denture
Contrasting with the afore mentioned full set of dentures, a removable partial denture (RPD) or half denture is a plate-like device that is designed to replace a single missing tooth or multiple missing teeth. Economically friendly and easy to maintain, the RPD is fitted to attach to your natural tooth or dental implant (see below) and can be easily adjusted to maximize its effectiveness. While the RPD remains the most widespread partial denture used, a fixed partial denture or fixed bridge may also be employed if the patient desires. Similar to the fixed bridge, the fixed partial denture cannot be removed, thus better resembling the look and feel of natural teeth making it one of the go-to options for tooth replacement.
Related Article: Dentures and Partials: A Tooth Replacement Option to Consider
Options for Tooth Replacement: Dental Implants
As perhaps the most popular and sought-after of all options for tooth replacement on this list, modern dental implants have recently caught fire among the general public and continue to receive critical acclaim among the dental community. Acting as an artificial tooth root, a dental implant is fitted within your jawbone, thus creating a base for the crown to be held in place. These screw-like devices are attached to the crown via a connector and can be designed to support the crown, ultimately resulting in a sturdy replacement that looks and functions like a natural tooth! In addition to replacing a single tooth, dental implants can work in conjunction with the fixed partial dentures mentioned previously, if there isn't a natural tooth present to support the device.
Related Article: Are You a Candidate for Dental Implants?
Options for Tooth Replacement: Don't Delay!
Although it might not seem like THAT big of a deal, missing teeth and related oral health problems are not something to sleep on! Much like falling dominoes, if you lose one tooth others are much more likely to follow, so please consider these tooth replacement options, and come see Dr. Kimes and his team at Overland Park Dentistry before its too late!
Local dentist, Dr. Charles R. Kimes, DDS, and his team at Overland Park Dentistry look forward to having the opportunity to care for you and your family with preventative, restorative or cosmetic dentistry. To schedule your dental appointment with your Overland Park Dentist, contact us at our south Overland Park office at (913) 647-8700 or our north Overland Park office at (913) 341-2380.