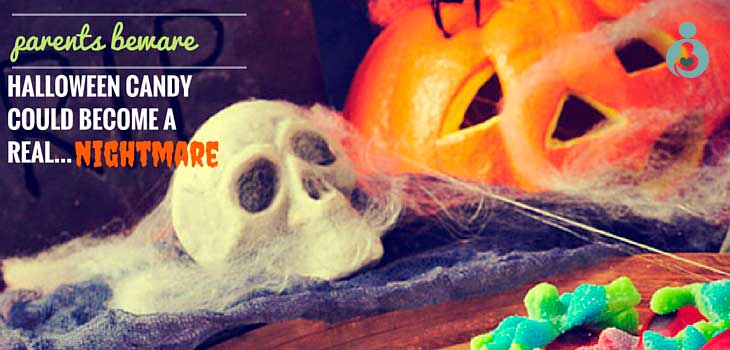 Trick or Treat
With Halloween right around the corner, it's the time of year in which little ghosts, vampires, and gholuls from all over, take part in the door-to-door quest for sweets. While this is always an exciting and of course spooky time of year for kids, for parents it can be a bit spooky for a totally different reason!
As surely, we've all heard by now, sugar is bad for your teeth. Although this is a commonly known fact that has been drilled into the collective conscious of our society for many years now, many people still struggle to grasp the seriousness of tooth decay as well as the overall importance of oral hygiene. Therefore, in a season in which the treats are a plenty, we will shed some light on the effects of tooth decay, as well as identifying which treats are the worst for causing tooth decay, and providing some insight on how to avoid tooth decay from frightening you this Halloween!
Avoid Tooth Decay: A Truly Scary Thing!
Tooth decay is a problem that can affect children and adults alike and is perhaps one of the most commonly encountered issues within the realm of professional dentistry. Tooth decay is progressive destruction of a tooth's enamel, in which the protective out lining of the tooth is slowly broken down, thus rendering the tooth vulnerable. In this state, the tooth is essentially at the mercy of whatever substances it may encounter, particularly substances with high acidity levels or containing excessive amounts of sugar. Therefore, if binge snacking on such treats continues, it's inevitable that the teeth will begin to decay, ultimately resulting in a cavity or additional damage to occur.
Related Article: Tooth Decay Dangers: Can it kill you?
Avoid Tooth Decay: Candy Types and Affects
Obviously sugary candy isn't the best the for your teeth, it's important to realize that some types of candy are much worse than others. For instance, classic chocolate treats (such as Hershey's bars, Hershey's kisses, Chocolate or Peanut M&M's) remain arguably the most popular type of candy in the world today, however because the chocolate residue from these products can be easily removed from teeth by a proper brushing, these basic chocolate treats are actually a much better choice regarding your child's oral heath than the majority of candy types out there. Conversely, chocolate bars containing a chewy filling can be much more harmful due to their contents sticking to teeth.
Related Article: The Consequences of Poor Oral Health
In the section below are a list of different types of candy and how they can be bad for teeth if consumed in excessive amounts.
Hard Candy: While hard candy such as Lollipops, Lifesavers, Jawbreakers, and Jolly Ranchers are certainly in high demand around Halloween, unfortunately treats such as these can be tough on teeth due to both their highly sugary contents, and hard structure. If a tooth has already been weakened by any previous damage or decay, chomping on some hard candies are certain to not make things any better!
High Citrus Sweets: Regardless of whether it's a high citrus beverage or a citrusy snack, excess citrus can absolutely wreak havoc on a tooth's enamel, causing the enamel to erode at a very quick rate. Some popular candy products containing particularly high amounts citric acid include: Sour Patch Kids, Lemonheads, Sour Skittles, and various other sour-based candies.
Chewy Candy: Gummy or chewy candies are perhaps among the worst types of candy when it comes to causing or progressing tooth decay. When chewy treats are consumed, the sticky remnants may to cling to teeth or even get caught in gaps or small crevasses in one's smile and continue to expose the teeth to their sugary contents. Many different types of candy fall into this category including: Skittles, Starbursts, Gummy Bears, Laffy Taffy, and the classic Halloween staple known as Candy Corn.
Caramel Chocolate: As mentioned previously, unlike their more basic counterparts, caramel-filled chocolate products such as Snickers, Milk Duds, Twix, or Milky Way bars are not as easy to wash away with a simple brushing. Rather, these products tend to act much in the same vein as the aforementioned chewy candies, often getting stuck to teeth and finding their way into those hard to reach regions of the mouth. If the substance is not removed, it will likely remain lodged in place and will eventually decay, thus highlighting the importance of flossing after eating.
Cold Chocolate: Just a word to the wise; please do not put chocolate in the refrigerator! Biting down on an ice-cold chocolate bar can break a tooth quicker than you can say dental crown!
Related Article: Your Halloween Candy Survival Guide
A Decay-Free Halloween!
Okay, let's make ourselves perfectly clear, it IS okay to enjoy a few treats here and there, and we certainly DON'T want to spoil you or your kiddo's festivities this Halloween. Our goal here is simply to make both kids and parents a little more aware of how some of those beloved treats can potentially affect their smile and encourage everyone to practice a little moderation when enjoying those tasty treats to avoid tooth decay.
Remember, Halloween just isn't Halloween without being a little scary, but tooth decay certainly isn't the kind of scare that anyone wants!
Local dentist, Dr. Charles R. Kimes, DDS, and his team at Overland Park Dentistry look forward to having the opportunity to care for you and your family with preventative, restorative or cosmetic dentistry. To schedule your dental appointment with your Overland Park Dentist, contact us at our south Overland Park office at (913) 647-8700 or our north Overland Park office at (913) 341-2380.