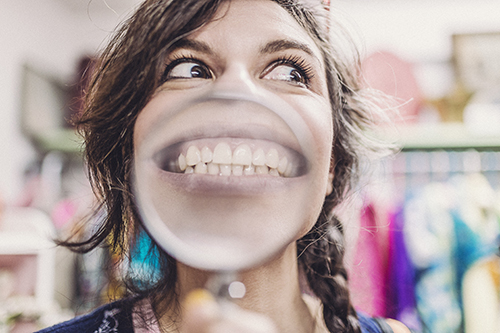 White Teeth: A Universal Desire!
If you could describe your teeth in one word what would it be? While it might seem silly at first, contemplating over such a question might yield some interesting or perhaps even undesirable answers. Unfortunately, this is often the case for many people as according to several recent polls, approximately 65.9% of people across the globe reported being dissatisfied with the color/appearance of their teeth. While it's important to consider that the dental care in some of the countries in question may lack the resources available to those within in the United States, clearly one's teeth can have a significant impact on one's sense of self-esteem!
Certainly, a beautiful white smile is a universal desire shared by folks from all walks of life; however, the question of how to obtain a picturesque smile of your own may vary depending on how you choose to do so. There are in fact, two different ways you can have your teeth whitened, and both of which may present aspects that can be both positive and negative depending on your given circumstances.
Teeth Whitening: Two Different Options
Now before we get into the two different teeth whitening options, lets first refresh your memory on what exactly a tooth whitening is and how it's done. As a strictly cosmetic procedure, whitening your teeth is the practice of removing any stains or discoloration your teeth may have. As we age, our teeth sustain a significant amount of wear and tear over the years, thus accumulating various nicks and blemishes on the surface of your teeth. Therefore, the purpose of the whitening process is to effectively reverse the effects of aging and restore your smile to its former glory.
This is achieved by first applying a protective coating to the surrounding gums, then a bleaching agent directly to the surface of your teeth. This process can take upwards of 30 minutes and can be administered a couple of different ways. Naturally, this is where the process may differ depending on your chosen option, as a professionally administered whitening can be performed by your dentist upon your request, or you may elect to undertake the procedure yourself via over the counter whitening products. Obviously, this decision entirely yours to make, however its important to realize the implications prior to making your selection as the results may vary accordingly.
Over the Counter Whitening: Pros and Cons
Pros: Generic name brand whitening materials have been sold at local pharmacies and convenience stores for years and are readily available upon visiting one. Due to the fact that Over the counter (OTC) whitening products are economically friendly and can be obtained relatively easily, these products have been somewhat popular amongst the general public in the past. While the popularity of these products has waned somewhat in recent years, OTC whitening products continue to remain a staple of pharmacies nationwide.
Cons: Whether you select whitening trays or strips, unfortunately there are a number of issues that have been reported by users of OTC products, which has perhaps led to their recent decline in consumer interest. One such issue reported in users of both OTC trays and strips is gum irritation due to exposure the bleaching solution, resulting in bleeding or painful blistering of the gums or throat. Additionally, the bleaching solution employed by OTC products has caused some users to complain of significant tooth sensitivity to particularly hot or cold temperatures, thus causing some to immediately cease use. Another counterproductive drawback is the occasional propensity of OTC whitening trays to stain or discolor teeth, due to the trays fitting incorrectly as unlike customized professional whitening trays, OTC whitening trays are a "one size fits all design" and might not meet your exact specifications.
Professional Whitening Options: Pros and Cons
Pros: A Professional dental whitening is unquestionably the safest and most efficient way to ensure your teeth look better than ever! A professional whitening treatment requires a visit to the dental office, where the dentist will assess the amount of whitening solution needed, (based on the degree of tooth discoloration as well as the preferences of the patient) and proceed to take impressions of the upper and lower rows of teeth, thus providing you with custom-fitted whitening trays. Once the whitening solution has been administered, you will receive your custom trays, as well as a take home touch-up kit. This kit will include a set of detailed instructions on how to the trays are to be correctly worn and how to properly load the amount of bleaching gel into each tray in order to prevent any issues or mishaps. By opting for a professional whitening, you will see instant results as well as receiving high quality materials to ensure the desired results.
Cons: While a professional whiting is clearly superior to all OTC systems, as far as the actual whitening procedure goes, obviously a professional whitening does require you to take the time to come in for an actual dental appointment. Although the treatment is relatively short, (rarely exceeding an hour) this can present an issue for some those with inflexible schedules. Perhaps the only other issue presented by a professional whitening, is the fact that the procedure does cost more than OTC products, and while the price may vary depending on a number of factors, this is something to consider when making your selection.
Related Article: Professional Teeth Whitening: Get the Smile of Your Dreams
The Choice is Yours!
While a beautiful smile is something that everyone wants, the way to achieve the smile of your dreams is up to you. At Overland Park Dentistry we certainly encourage patients to consider a professional whitening for the most effective results, however only you can decide which whitening method is the correct solution for you! Read more here about other Cosmetic Dentistry Options to achieve the smile of your dreams.
If you are unhappy with your smile, considering teeth whitening options, or simply have questions about getting your teeth whitened, please call us at Overland Park Dentistry, and let us help you get the smile that you desire!
Local dentist, Dr. Charles R. Kimes, DDS, and his team at Overland Park Dentistry look forward to having the opportunity to care for you and your family with preventative, restorative or cosmetic dentistry. To schedule your dental appointment with your Overland Park Dentist, contact us at our south Overland Park office at (913) 647-8700 or our north Overland Park office at (913) 341-2380.